David Webber joins the #FreelanceTaskForce
Posted on: 16th June 2020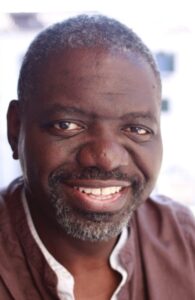 Actor David Webber has joined the Fuel team as part of the #FreelanceTaskForce.
David has appeared in a number of theatre productions, films, and television series. David was part of the original cast in Inua Ellams' critically acclaimed Barber Shop Chronicles and was the only cast member to appear in all four tours following the production's original run. Barber Shop Chronicles was co-produced by Fuel, Leeds Playhouse, and the National Theatre.
David will participate in a number of conversations with other freelancers who are being supported by arts organisations all over the country as part of the #FreelanceTaskForce.
The aim of this initiative is to strengthen the influence of the self-employed theatre and performance community. It will create ongoing points of connection between freelancers, organisations, funders, and government and amplify the voice of the self-employed in the conversations to come about how we can manage the response to and recovery from the Covid-19 crisis in the performing arts sector. Fuel is one of more than 140 organisations included in this initiative and now more than 117 freelancers are receiving financial support.
Congratulations David. Let the conversations begin!
#FreelanceTaskForce