Encounter's The Kids Are Alright
Posted on: 17th November 2020
As we fast approach our performances of The Kids Are Alright, we wanted to explain the development process of this show and the team behind it.
The Kids Are Alright was first presented in April 2019, a production that combined dance and new writing, participation and performance, children and adults. This production was co-commissioned by Fuel and The Place in partnership with The Albany, Lewisham Homes, Camden People's Theatre, Northern Stage, and Byker Community Trust. The project is funded by Arts Council England, Wellcome Trust, and the Peggy Ramsay Foundation.
The process
Due to Covid-19, our programme of work has been very restricted in order to keep our audiences safe and comply with government guidelines. Due to this, we created a new programme and reimagined our shows for our audiences to view safely at home.
In July, we reimagined The Kids Are Alright to be performed across council estates in London and Newcastle to both a residential and public audience who would experience the show through wireless headphones.
In September, we decided it was no longer safe to bring public audiences into residential locations and would instead be live-streamed from each of these civic spaces.
On what would've been the opening night in Deptford – the last day before the second national lockdown began – we ran the show for the first time on the Evelyn Estate and filmed it in a single take.
The film intimately captures how, for one hour, characters and residents co-existed as the performance became part of the place.
Find out more about The Kids Are Alright and book your tickets here.
Who are Encounter?
Encounter consists of award-winning playwright Lee Mattinson and choreographer, director, and movement director Jen Malarkey. Encounter create shows about extraordinary events, ideas, and people.
Encounter's mission is to experiment with how people and performers can collaborate at the heart of new work. Find bold new ways to construct narrative and physical worlds, and explore what it is to survive in the modern world.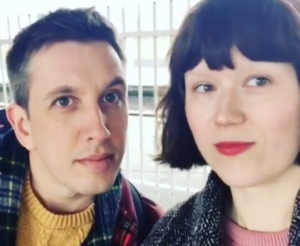 Partners of The Kids Are Alright